Contact Mattawan Chiropractic Clinic
We'd love to hear from you! Call us (269) 668-4521
Covid-19 Update
We're happy to announce that our office has reopened. Rest assured, we're taking additional steps to ensure our practice remains clean and safe.
If you do have flu-like symptoms or a fever, please call us to reschedule your visit. If you have any questions, please contact us prior to your visit.
We look forward to seeing you soon!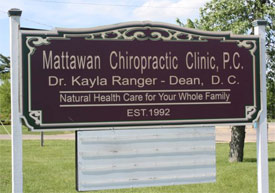 CONTACT
Mattawan Chiropractic Clinic
55475 N Main St
Mattawan, MI 49071
T: (269) 668-4521
Office Hours
M
8:00 – 12:00
2:00 – 6:00
W
8:00 – 12:00
2:00 – 6:00
F
8:00 – 12:00
2:00 – 5:00

FIND US